Jul 13
8
By Nicholas Adermann, University of Queensland, School of Journalism and Communication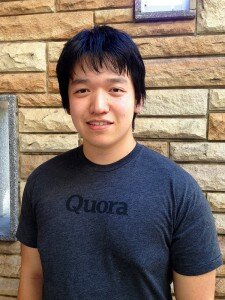 United States' competitor Johnny Ho is the returning champion of the International Olympiad for Informatics, after achieving the highest score in the 2012 competition.
Last year, Johnny beat six-time gold medal winner Gennady Korotketvich from Belarus, a feat that had not been done in the four years beforehand. Having won gold medals in the previous two Olympiads, Johnny aims to complete the trifecta this year by claiming the IOI's top honour.
"I've never really beaten him before, but I think it might have been a bit of luck, but it's still cool," Johnny said.
When it comes to this competition, Johnny is unsure about his chances.
"This year, I'm kind of a bit nervous; even Scott [another member of the USA team] beat me in the United States qualifying," he said.
When asked what result Johnny would be happy with, he said, "I think a top five finish this year would be good."
In the process of winning last year's competition, Johnny recorded a perfect score, something that had only been achieved several times in the 25-year history of the competition.
Johnny, who started programming when he was 12, said that the key to winning was "getting familiar with all the algorithmic methods that are out there".
"Last year, I spent about 10 hours a week [practising], but this year, it's dropped down to about five," he said.
Since winning IOI in 2012, Johnny feels that he has lost some of the motivation he had previously had.
"I'mno longer quite as excited about spending my time on algorithmic programming competitions, though I still encourage others to participate."
However, the future looks bright for Johnny after this year's competition, having secured a place at Harvard University to continue his studies of information technology and mathematics.
He has also found informatic-based work at information sharing website Quora, which allows him to apply his skills in the workforce.
This story was published at IOI Reporter, the official news channel for IOI 2013.